Order: Apodiformes | Family: Apodidae | IUCN Status: Least Concern

Age: Adult | Sex: Unknown | Loc. Southwest Ecuador

Age: Adult | Sex: Unknown | Loc. Southwest Ecuador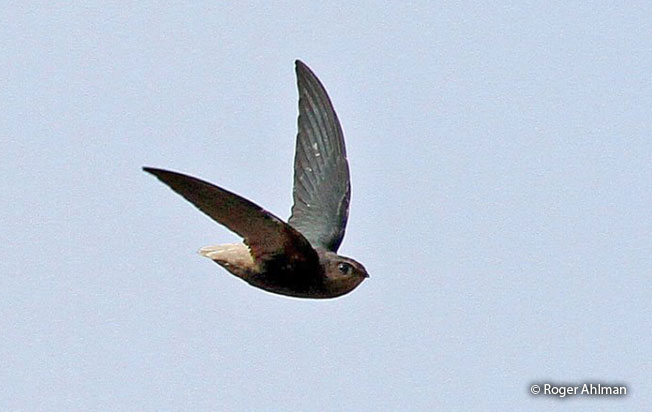 Age: Adult | Sex: Unknown | Loc. Southwest Ecuador

Age: Adult | Sex: Unknown | Loc. Southwest Ecuador
---
Identification & Behavior:
~11 cm (4.3 in). The Tumbes Swift if blackish with a gray rump and uppertail coverts that extend to the tip of the tail. The vent and undertail coverts are also gray. The bird in flight shows the entire tail end (uppertail and undertail coverts) gray in color. The tail is short and the wings are mostly broad but narrower near the body. It is similar to the Gray-rumped Swift but is distinguished by a combination of broad wings narrow near the body, a short tail, a whitish uppertail and undertail coverts, and a slower flapping of the wings during flight. The Tumbes Swift is often considered a sub-species of the
Short-tailed Swift
.
Status: The Tumbes Swift is uncommon over the deciduous and humid forests of Tumbes, Piura, and Cajamarca. It generally ranges below 1900 m along the western foothill of the Andes. The Tumbes Swift also occurs in Ec.
Name in Spanish: Vencejo de Tumbes.
Sub-species: Tumbes Swift (Chaetura brachyura ocypetes), J. T. Zimmer, 1953.
Meaning of Name: Chaetura: Gr. Khaitē= long flowing hair and oura= tail. ocypetes: Gr. ōkus= fleet, swift and petomai= to fly, to rush.. ōkupetēs= swift-flying, swift-running.
Distribution Map
Voice
---
References:
Species range based on:

Schulenberg, T. S., D. F. Stotz, and L. Rico. 2006. Distribution maps of the birds of Peru, version 1.0. Environment, Culture & Conservation (ECCo). The Field Museum. 

 

http://fm2.fieldmuseum.org/uw_test/birdsofperu

 on 08/01/2015.