Order: Passeriformes | Family: Cotingidae  | IUCN Status: Least Concern

Age: Adult | Sex: Male | Loc. Amazonia, Brazil

Age: Adult | Sex: Female | Loc. Amazonia, Brazil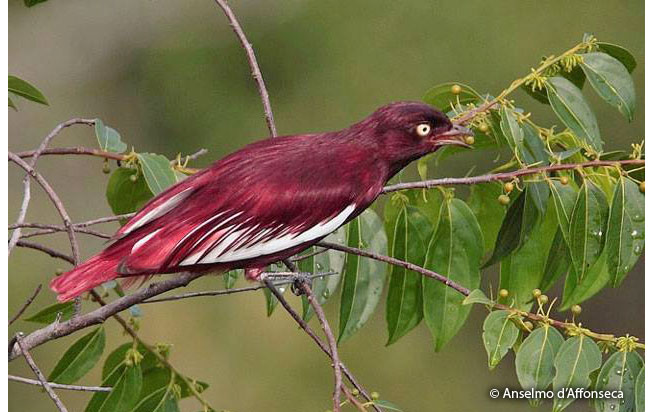 Age: Adult | Sex: Male | Loc. Amazonia, Brazil

Age: Adult | Sex: Female | Loc. Amazonia, Brazil
---
Identification & Behavior:
~
20 cm (7.8 in)
. The male Pompadour Cotinga is all red-wine with white wings and ornate elongated feathers from the back over the wings. The female is all gray with dusky wing. Both sexes have a white iris. It forages in the canopy of nutrient-poor soil forests in pairs or often in small groups. The female is similar to the female
Spangled Cotinga
and
Plum-throated Cotinga
but is distinguished by a gray plumage without much markings, white iris, wing coverts and flight feathers fringed with white.
Status: The Pompadour Cotinga is uncommon but restricted to a small region of northeast Amazonia known to have forest on nutrient-poor soils. It also occurs in Co, Ec, Br, and Bo.
Name in Spanish: Cotinga Pomposa.
Sub-species: Pompadour Cotinga (Xipholena punicea), (Pallas), 1764.
Meaning of Name: Xipholena: Gr. xiphos= sword and laina= mantle, cloak. punicea: L. puniceus purple, red.
Distribution Map
Voice
---
References:
Species range based on:

Schulenberg, T. S., D. F. Stotz, and L. Rico. 2006. Distribution maps of the birds of Peru, version 1.0. Environment, Culture & Conservation (ECCo). The Field Museum. 

 

http://fm2.fieldmuseum.org/uw_test/birdsofperu

 on 03/01/2016.