Order: Falconiformes | Family: Falconidae | IUCN Status: Least Concern

Age: Adult | Sex: Unknown | Loc. Cusco, Peru

Age: Adult | Sex: Unknown | Loc. Cusco, Peru

Age: Adult | Sex: Unknown | Loc. Cusco, Peru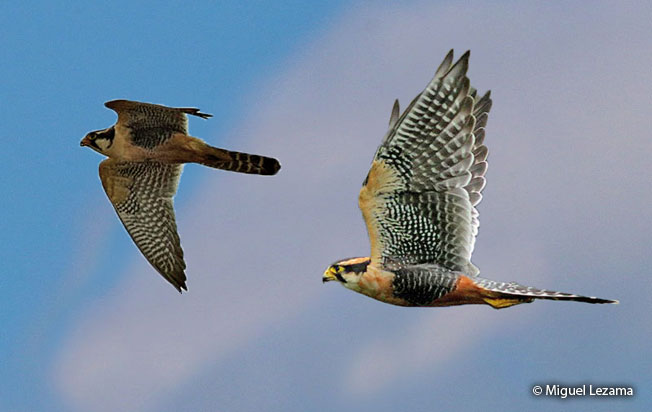 Age: Adult | Sex: Unknown | Loc. Cusco, Peru
---
Identification & Behavior:
~
38.5 cm (15.1 in)
. The adult Aplomado Falcon has gray upperparts and top of the head. It has a conspicuous buff superciliary line and dusky mustache. The underparts are buff and rufous with a dark vest. The juvenile is similar but has a dusky brown back and dusky streaks on the breast. It is similar to a much smaller
American Kestrel
. Also, see juvenile
Peregrine Falcon
. It forages in open habitats.
Status: The Aplomado Falcon is fairly common in the high Andes where it is known to range between 2400 – 4300 m. It also occurs in Co, Ec, Br, Bo, and Ch.
Name in Spanish: Halcón Aplomado.
Sub-species: Aplomado Falcon (Falco femoralis femoralis), Temminck 1822. Colombia, S through E Bolivia and Brazil.
(F. f. pichinchae), Chapman,1925. Colombia, Ecuador, Peru and W Bolivia S to N and Chile.
Meaning of Name: Falco: Gr. phalkön= falcon. femoralis: L. femoralis, femoral, femur= cover for the thigh femur.
Distribution Map
Voice
---
References:
Species range based on:

Schulenberg, T. S., D. F. Stotz, and L. Rico. 2006. Distribution maps of the birds of Peru, version 1.0. Environment, Culture & Conservation (ECCo). The Field Museum. 

 

http://fm2.fieldmuseum.org/uw_test/birdsofperu

 on 08/01/2015.