Order: Passeriformes | Family: Hirundinidae | IUCN Status: Least Concern

Age: Adult | Sex: Unknown | Loc. Loreto|Madre de Dios

Age: Adult | Sex: Unknown | Loc. Southern Brazil

Age: Adult | Sex: Unknown | Loc. Lambayeque, Peru

Age: Adult | Sex: Unknown | Loc. Amazonia, Brazil
---
Identification & Behavior:
~
17 cm (6.6 in)
. The Brown-chested Martin has brown upperparts and tail. The throat and breast are brown and grades to lighter brown and whitish towards the rest of the underparts (
tapera
). The Austral migrant
fusca
has a whitish throat, a better defined brown breast, and a distinctive median stripe on the breast. It is almost always associated with rivers or other water courses. It has a distinctive gliding with bowed wings and dropping tail. It is similar to the
Gray-breasted Martin
but is distinguished by brown upperparts and lighter brown underparts without a contrasting blackish and pale breast in the Gray-breasted Martin.
Status: The Brown-chested Martin is common and widespread in Amazonia where it is known to range up to 1260 m along the foothill of the Andes. The Austral migrant fusca is expected in Peru during the months of April through October. It also occurs in the humid semi-deciduous forest of extreme northwest Peru in Tumbes. It also occurs in Co, Ec, Br, Bo, and Ch.
Name in Spanish: Martín de Pecho Pardo.
Sub-species: Brown-chested Martin (Progne tapera tapera), (Linnaeus), 1766.  N South America from Caribbean coast and Trinidad S, E of Andes, to Amazonian & NE Brazil, also W of Andes in SW Ecuador (S from Guayas) and NW Peru (Tumbes).
(Progne tapera fusca), (Vieillot), 1817.  breeds SE Bolivia and S & E Brazil S to C Argentina (Mendoza, La Pampa, Buenos Aires) and Uruguay; migrates N to N South America and Panama.
Meaning of Name: Progne: Gr.Progne or Procne= daughter of King Pandion of Athens and wife to King Tereus of Thrace. tapera: Tupí name Taperá home living (bird), for a sort of swallow.
Distribution Map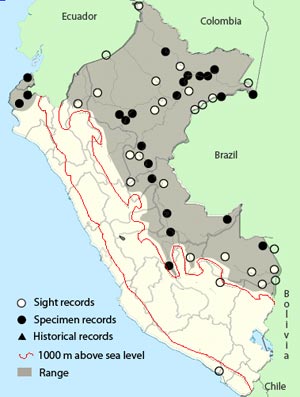 Voice
---
References:
Species range based on:

Schulenberg, T. S., D. F. Stotz, and L. Rico. 2006. Distribution maps of the birds of Peru, version 1.0. Environment, Culture & Conservation (ECCo). The Field Museum. 

 

http://fm2.fieldmuseum.org/uw_test/birdsofperu

 on 03/01/2016.