Order: Suliformes | Family: Sulidae  | IUCN Status: Least Concern

Age: Adult | Sex: Unknown | Loc. Venezuela

Age: Adult | Sex: Unknown | Loc. New Zealand

Age: Juvenile | Sex: Unknown | Loc. Hawaiian Islands

Age: Juvenile & Subadult | Sex: Unknown | Loc. Central Pacific Ocean
---
Identification & Behavior:
~82.5 cm (32.5 in)
. The adult Masked Booby is all white with pointed black wings and tail. Juveniles have gray upperparts including neck and head. It is very similar to
Nazca Booby
, it is best distinguished by bill color. From a close range, Masked Booby has a pale yellow bill. The Masked Booby is very similar to Nazca Booby, but it is distinguished by a pale yellow bill color (Nazca Booby has a pale salmon bill).  Also, most Nazca Boobies have white central tail feathers; all Masked Boobies have solid black tails.
Status: The Masked Booby is rare but apparently a regular visitor in Peruvian waters. The status of the Masked Booby is not well understood due to the extreme similarity to Nazca Booby. Manuel Plenge comments that all Masked Booby specimens from Peru should be examined to confirm their identification as they could be Sula granti. One undocumented sight record from Mollendo Bay, Región de Arequipa (R. A. Hughes to M. A. Plenge in litt.), could be this species.
Name in Spanish: Piquero Enmascarado
Sub-species: Masked Booby (Sula dactylatra) Lesson, 1831.
Meaning of Name:  Sula: Is a Norwegian name for a gannet or a booby. dactylatra: L. dactyl=toes, atra=dark, black. A booby with dark or black feet.
Distribution Map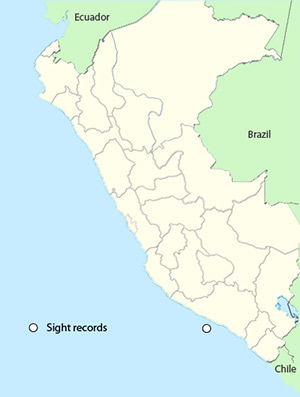 Voice:
Silent at sea.
---
References: