Order: Passeriformes | Family: Thraupidae | IUCN Status: Least Concern

Age: Adult | Sex: Unknown | Loc. Eastern Andes, Colombia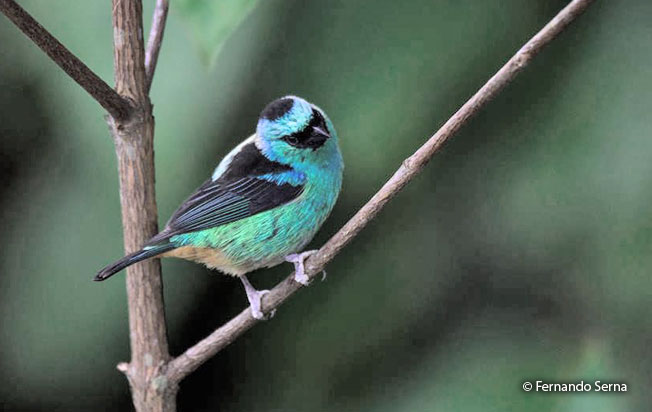 Age: Adult | Sex: Unknown | Loc. Eastern Andes, Colombia

Age: Adult | Sex: Unknown | Loc. Eastern Andes, Colombia

Age: Adult | Sex: Unknown | Loc. Eastern Andes, Colombia
---
Identification & Behavior:
~
13 cm (5.1 in)
. The Metallica-green Tanager is mostly opalescent green. The crown, nape and the back are black with a median opalescent green stripe on the mantle. The center of the belly is brown and grades to rusty toward the vent an undertail coverts. It forages in second growth, and the canopy of mature montane forests often in the company of mixed species flocks. It is similar to the
Blue-browed Tanager
but is distinguished by having a mostly opalescent green head.
Status: The Metallic-Green Tanager is uncommon in montane forests of the east slope of the Andes at elevations ranging between 1350-2200 m. It also occurs in Co and Ec.
Name in Spanish: Tangara Verde Metálico.
Sub-species: Metallic-green Tanager (Tangara labradorides chaupensis) Chapman, 1925.
Meaning of Name: Tangara: Tupí name, Tangara= dancer, one who turns and skips, originally used for the manakins, but subsequently (Marcgrave 1648) transferred to other bright finch-like birds. labradorides: In honor of French Pierre de Labrador Labrador stone, and idēs= resembling.
Distribution Map
Voice
---
References:
Species range based on:

Schulenberg, T. S., D. F. Stotz, and L. Rico. 2006. Distribution maps of the birds of Peru, version 1.0. Environment, Culture & Conservation (ECCo). The Field Museum. 

 

http://fm2.fieldmuseum.org/uw_test/birdsofperu

 on 03/01/2016.