Order: Passeriformes | Family: Turdidae | IUCN Status: Least Concern

Age: Adult | Sex: Unknown | Loc. Southern Brazil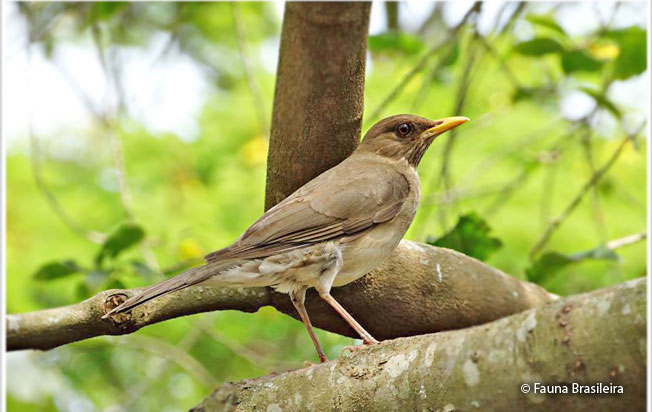 Age: Adult | Sex: Unknown | Loc. Southern Brazil

Age: Adult | Sex: Unknown | Loc. Southern Brazil

Age: Adult | Sex: Unknown | Loc. Southern Brazil
---
Identification & Behavior:
~
23 cm (9 in)
. The Creamy-bellied Thrush has gray upperparts with a yellow bill and no eye ring. The throat is whitish streaked with black. The rest of the underparts are buffy-gray with a white center of belly, vent, and undertail coverts. It forages mostly on the ground in semi-open habitats and forest edges. It is similar to the
Black-billed Thrush
but is distinguished by a yellow bill and buffy-gray underparts.
Status: The Creamy-bellied Thrush is an uncommon Austral migrant to southeast Peru. All records come from Madre de Dios. It is expected in Peru during the months of May through October. It also occurs in Br, Bo, and Ch.
Name in Spanish: Zorzal de Vientre Cremoso.
Sub-species: Creamy-bellied Thrush (Turdus amaurochalinus), Cabanis, 1850.
Meaning of Name: Turdus: L. turdus= thrush. amaurochalinus: Gr. amauros= dark and khalinos= bridle, strap.
Distribution Map
Voice
---
References:
Species range based on:

Schulenberg, T. S., D. F. Stotz, and L. Rico. 2006. Distribution maps of the birds of Peru, version 1.0. Environment, Culture & Conservation (ECCo). The Field Museum. 

 

http://fm2.fieldmuseum.org/uw_test/birdsofperu

 on 03/01/2016.