Order: Passeriformes | Family: Tyrannidae | IUCN Status: Least Concern

Age: Adult | Sex: Unknown | Loc. Patria, Cuzco

Age: Adult | Sex: Unknown | Loc. No Data

Age: Adult | Sex: Unknown | Loc. La Merced, Junin

Age: Juvenile | Sex: Unknown | Loc. Eastern Andes of  Colombia
---
Identification & Behavior:
~
39 cm (15.3 in, male)
,
29 cm (11.4 in, female),
The Long-tailed Tyrant is black with a white rump and a white or grayish and white crown. It has a pair of long tail streamers, which are longer in the male than in the female. Some females lack long streamers. The juvenile is all black with only rudimentary tail streamers. It forages in semi-open areas and clearings where it perches on the tip of snags and exposed branches. The plumage is unique but see the
Fork-tailed Flycatcher
, which also has long tail feathers.
Status: The Long-tailed Tyrant is fairly common mostly on the east slope of the Andes up to 2300 m. In also ranges as low as 350 m in part of the Amazonian lowlands. It also occurs in Co, Ec, Br, and Bo.
Name in Spanish: Tirano de Cola Larga.
Sub-species: Long-tailed Tyrant (Colonia colonus fuscicapillus), (P. L. Sclater), 1861.  E Andes of Colombia, N Ecuador and extreme NE Peru (mouth of R Curaray).
(Colonia colonus niveiceps), J. T. Zimmer, 1930.  SE Ecuador, Peru (San Martín S to N Puno) and N Bolivia (S to Cochabamba).
Meaning of Name: Colonia: Based on de Azara's 1802-1805, name Colón, for the Long-tailed Tyrant, and specific name Muscicapa colonus Vieillot. colonus: L. colonus= farmer, rustic.
Distribution Map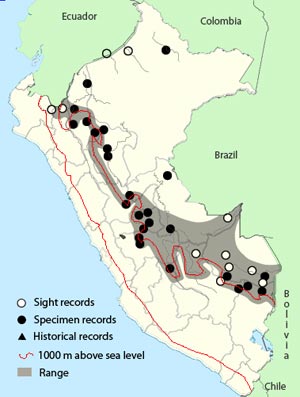 Voice
---
References:
Species range based on:

Schulenberg, T. S., D. F. Stotz, and L. Rico. 2006. Distribution maps of the birds of Peru, version 1.0. Environment, Culture & Conservation (ECCo). The Field Museum. 

 

http://fm2.fieldmuseum.org/uw_test/birdsofperu

 on 03/01/2017.