Order: Passeriformes | Family: Passerellidae | IUCN Status: Least Concern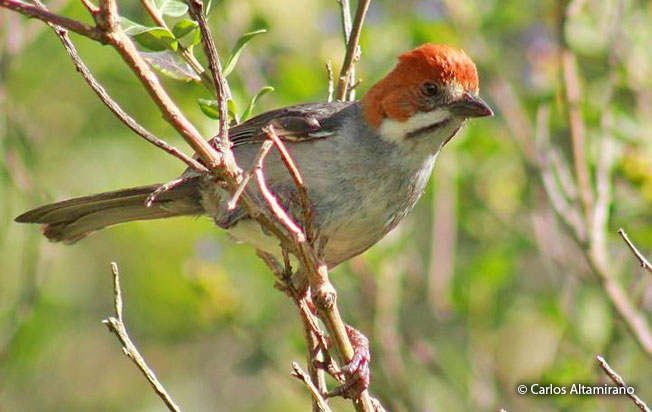 Age: Adult | Sex: Unknown | Loc. Ancash, Peru

Age: Adult | Sex: Unknown | Loc. Ancash, Peru

Age: Adult | Sex: Unknown | Loc. Ancash, Peru

Age: Adult | Sex: Unknown | Loc. Ancash, Peru
---
Identification & Behavior:
~
18.5 cm (7.2 in)
. The Rufous-eared Brush-Finch is dusky-gray above and lighter gray below with a whitish center of the belly. It has a rufous head with black on the lores and around the eye. It also has a black malar stripe and white spots on the forehead. It forages in Andean scrub and Polylepis forests. The range of the Rufous-eared Brush-Finch does not overlap with that of the very similar
Apurimac Brush-Finch
and
Black-spectacled Brush-Finch
.
Status: Endemic. The Rufous-eared Brush-Finch is uncommon in montane scrub, riparian forest, and Polylepis woodlands on the east and west sides of the upper Marañon River Valley. It generally ranges at elevations within 3200-4600 m.
Name in Spanish: Matorralero de Oreja Rufa.
Sub-species: Rufous-eared Brush-Finch (Atlapetes rufigenis) (Salvin), 1895.
Meaning of Name: Atlapetes: Gr. myth. Atlas, a Titan king who was changed into a mountain and petes= flier, to fly. rufigenis: L. rufus= rufousand gena= cheek.
Distribution Map
Voice
---
References:
Species range based on:

Schulenberg, T. S., D. F. Stotz, and L. Rico. 2006. Distribution maps of the birds of Peru, version 1.0. Environment, Culture & Conservation (ECCo). The Field Museum. 

 

http://fm2.fieldmuseum.org/uw_test/birdsofperu

 on 03/01/2016.